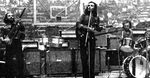 3 Hürel is an Anatolian Rock band which was founded by Onur, Haldun, and Feridun Hürel brothers in 1970.
The initial name for the band was Yankılar. After realising that there's another band named Yankılar, they changed their name to İstanbul Dörtlüsü (İstanbul Quartet). And later on they played under names Trio İstanbul, Oğuzlar, Alizeler, Biraderler, and 3 Hürel.
Feridun Hürel was responsible for all the lyrics and compositions. His compositions involve a unique instrument, which is a double neck instrument, in which one neck is electric guitar and the other one is saz. The music is supported by hand made drum and percussion set and bass guitar. This original instrumental line-up has a great effect on the music of 3 Hürel. Their sound combines Anatolian folk music style with western progressive rock, creating an original synthesis in Turkish progressive rock and music history. It is known that, 3 Hürel has never played cover songs, neither on albums, nor on stage. Their creative approach to music helped them to gain nation-wide fame, thus they have been awarded many times by private companies and audiences.
Releases
Edit
LPs, CDs and Tapes
Edit
See also
Edit
Band members: Feridun Hürel, Onur Hürel, Haldun Hürel
External Links
Edit